Welcome to San Diego Chrysler Dodge Jeep Ram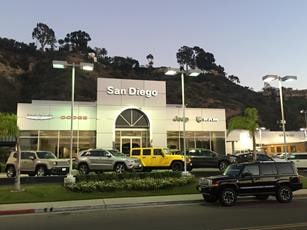 Here at San Diego Chrysler Dodge Jeep Ram we are a family-owned business committed to helping our customers and our community in any way we can. Not only do we serve our customers by providing a wide selection of vehicles and a top-notch service center, but we also serve our community to the best of our abilities.
We have an extensive inventory of new vehicles available for our customers to choose from. No matter what your driving needs may be, we have a model for you. We have all kinds of Chrysler, Dodge, Ram and Jeep brand models, and we will gladly help you find the one that's best for you. You'll also find that we have a wide selection of high-quality, affordable used cars available as well.
If your vehicle is in need of any maintenance or repairs, be sure to stop by our service center. We have a team of skilled technicians who will gladly take care of all your auto service needs. In our parts center, you'll find high-quality, genuine Mopar parts, and we will help you find the one that best fits your vehicle. We offer additional benefits to our customers, like our holiday shuttle. During the holiday season, our shuttle will take you to the mall to shop while your vehicle is being serviced.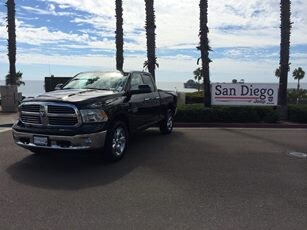 These customers are not the only ones who get benefits from San Diego Chrysler Dodge Jeep Ram. We have always been big supporters of the YWCA of San Diego County, and we host events to benefit our local community. For example, we host a no-distraction driving event every year to promote safe driving, and we give away a vehicle to a lucky winner during the event. Our community is important to us, and we do what we can to help make it a better place.
If you have any questions about our dealership, feel free to call us at (877) 807-9036 or pay us a visit. We are always happy to help drivers like you from the Kearny Mesa, Mira Mesa, University City, La Jolla, and Carmel Valley areas with all your automotive needs.
As a franchised dealer of Chrysler, Dodge, Jeep and Ram vehicles, we rely on the efforts of our franchisor partner with respect to the supply chain for all vehicles and parts sold here in California. Our dealership does not independently verify or audit our manufacturer's supply chain, require our manufacturer to certify that parts and materials comply with slavery or human trafficking laws, maintain internal accountability standards, or provide employee training on the prevention of human trafficking. For efforts taken by our manufacturer, please see their website, www.fcagroup.com